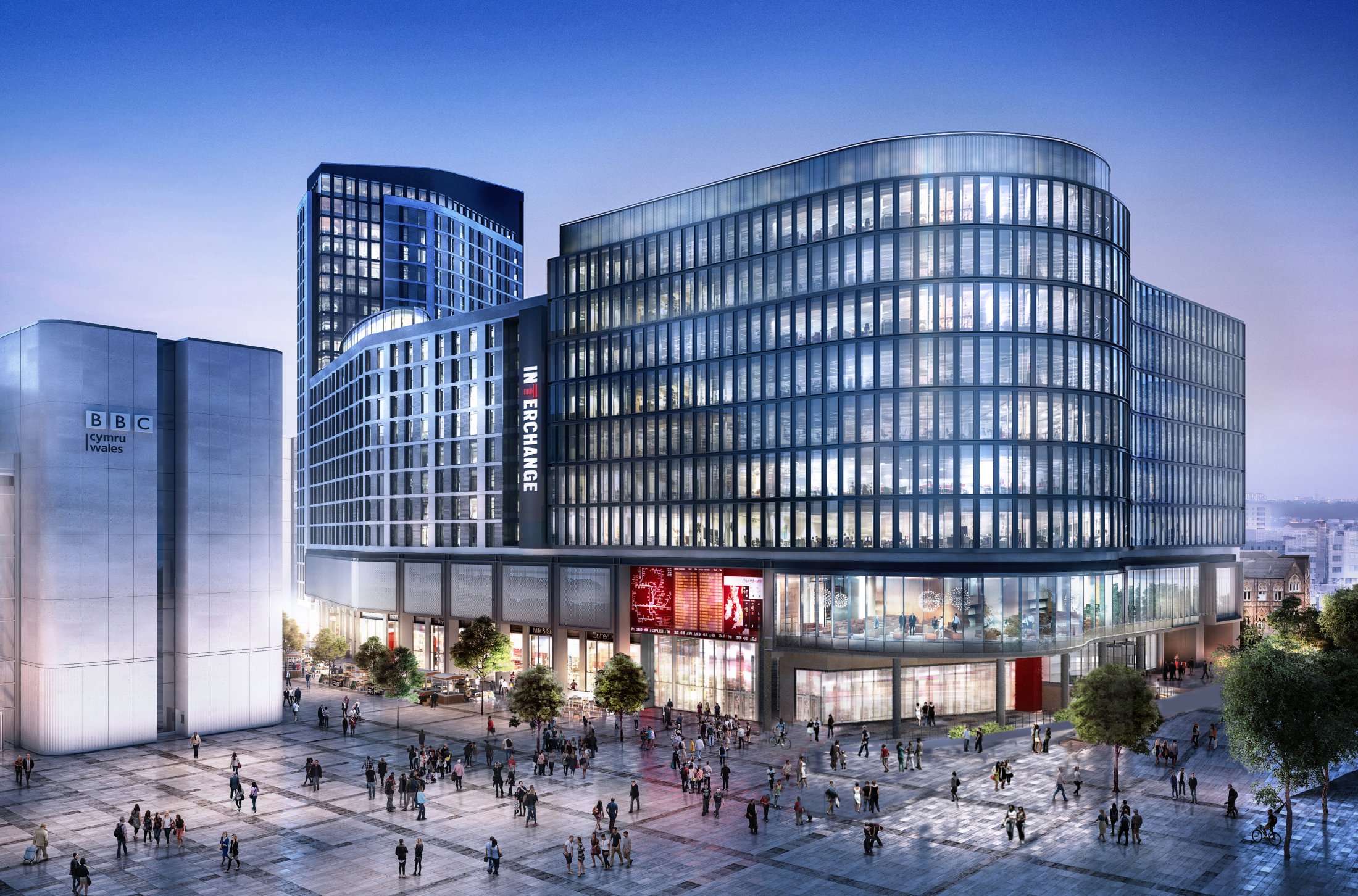 Back
Cardiff Interchange has been awarded Home Quality Mark (HQM) ONE certification for sustainability; the first HQM scheme to be certified in Wales and the first HQM ONE scheme to be certified in the UK.
Located in the heart of Cardiff City Centre, the Interchange will be a part of the wider 1,500,000ft2 Central Square development, which is currently home to the likes of the BBC, HMRC and Cardiff University School of Journalism.
The project includes a 14-bay bus station (which will be operated by Transport for Wales), a 12-storey office space, and 318 build-to-rent apartments.
Until the late 1930's, the land was occupied by terraced housing, churches and shops. The intervention of World War II halted redevelopment plans until after the war, and a new bus station and office building (Marland House) was opened in 1954. By the early 2010's, Marland House had become a hard-to-let office block and plans were put forward to redevelop the whole site.
Following demolition and an enabling works package, construction of Cardiff Interchange commenced on site in December 2019 and will complete in the fourth quarter of 2022.
McCann and Partners are delighted to be providing MEP Design, BREEAM, HQM, and WELL Accredited Professional (AP) services for the development, alongside a project team led by Rightacres and including ISG, Gleeds, Arup, Holder Mathias Architects and Legal & General.
The team worked closely together on optimising the sustainable design elements of the development through minimising negative environmental impacts, reducing the energy and water intensity, utilising recycled materials and many more aspects that have led to the building becoming HQM ONE certified by BRE.
Michael Davey (Associate Director) said "McCann and Partners are absolutely delighted that Cardiff Interchange is the first of its kind in the UK. The project has been a fantastic one to work on and we look forward to celebrating many more sustainability milestones in the coming years."
For more information about the Home Quality Mark assessment, please visit https://www.mccannp.com/home-quality-mark or contact Michael Davey here.