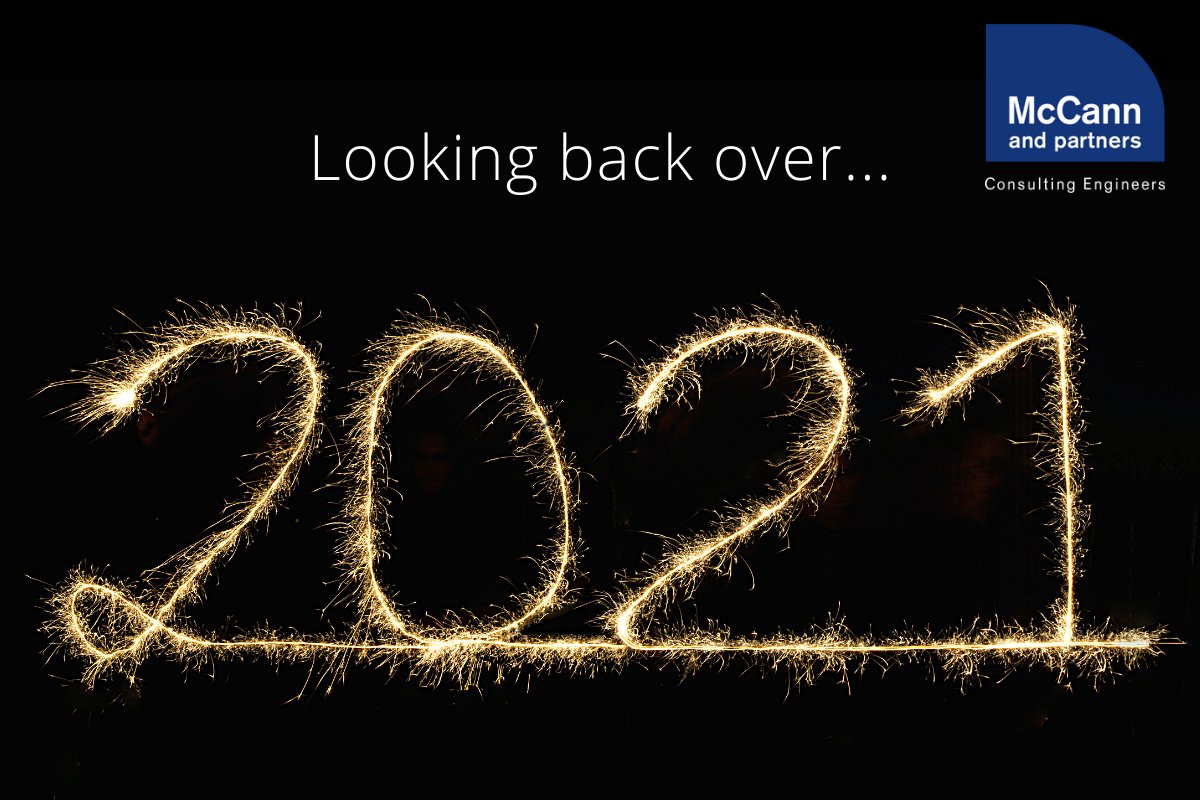 Back
What a year it's been for McCann and Partners.
Despite the challenges of Covid-19 still very much hanging over us, we've ventured back to the office for a few days a week, we've worked hard on some great projects completed and qualifications gained, we've had new starters and enjoyed some great charity events.
Let's take a look at the last year...
Cardiff Interchange Awarded Home Quality Mark (HQM) Certification
We started the year with the news that Cardiff Interchange was awarded Home Quality Mark (HQM) ONE certification; the first HQM scheme to be certified in Wales and the first HQM ONE scheme to be certified in the UK.
The Interchange will be a part of the wider 1,500,000ft2 Central Square development, which is currently home to the likes of the BBC, HMRC and Cardiff University School of Journalism. The project includes a 14-bay bus station (which will be operated by Transport for Wales), a 12-storey office space, and 318 build-to-rent apartments.
McCann and Partners are delighted to be providing MEP Design, BREEAM, HQM, and WELL Accredited Professional (AP) services for the development, alongside a project team led by Rightacres including ISG, Gleeds, Arup, Holder Mathias Architects and Legal & General.
The team worked closely together on optimising the sustainable design elements of the development through minimising negative environmental impacts, reducing the energy and water intensity, utilising recycled materials and many more aspects that have led to the building becoming HQM ONE certified by BRE.
McCanns Shortlisted for BREEAM Champion Award 2021
McCann and Partners was delighted to be shortlisted for the BREEAM Champion Award 2021 as recognition for our work in sustainability throughout 2020.
Sustainable building design is at the core of everything we do here and we were honoured to have been shortlisted. The BREEAM Awards is an annual celebration that proudly recognises the people, projects and organisations that are leading the way with significant achievements in building design, development and management.
Illustrious Parkgate Hotel Handed Over
McCann and Partners carried out the MEP Design and BREEAM services for this new luxury 170 bedroom, 4* hotel on the prominent St. Mary Street conservation area in Cardiff City Centre. The hotel includes 170 guest bedrooms and suites, a signature restaurant and bar, an elegant tea lounge, and a luxurious rooftop spa overlooking the skyline of the Welsh capital, providing alluring spaces to meet and drink, dine, relax and stay.
Graham Carr Promoted to Mechanical Associate
In addition to leading the mechanical design on many of our Cardiff projects, including the recent Covid-19 Ward at University Hospital of Wales, Graham has been integral to developing our leadership within the industry in the area of Net Zero Carbon, Passivhaus and Sustainable Design.
He has been a valued member of the McCann and Partners team for over 13 years and has played a crucial role in developing our sustainability offering.
Academic and Professional Qualifications
Earlier this year, we congratulated Nathan Williams (Electrical Engineer) after successfully completing his Masters Degree at the University of the West of England.
Also, a big congratulations to Julie Ostermeyer and Virginia Clement who are now fully licensed BREEAM Assessors after successfully passing their respective BREEAM New Construction exams in November.
Charitable Donations
It's really important to us here at McCann to make sure we give something back and this year, when the world is trying to recover from the challenges of a worldwide pandemic, it seems even more important to do our bit.
A team, which included McCann and Partners' very own Michael Davey and Dan Carter, took on the Longest Day Golf Challenge in June in an effort to raise money for the brilliant MacMillan Cancer Support. The Longest Day Golf Challenge invites teams of four people to play 72 holes (or four rounds of golf) in one day, from sunrise to sunset, where Mike and Dan helped to raise a respectful £1,560.
McCann and Partners also hosted a golf day at Cottrell Park Golf Club, St Nicholas in aid of Innovate Trust in September where we raised a staggering £3,021 and an impressive two hole in ones were achieved.
You can read all about our fabulous day here.
New Faces
It's always great to see our company grow and we've been delighted to welcome a fantastic group of people who are already making a difference at McCann and Partners.
Julie Ostermeyer (Sustainability), Alex Middlemiss (Electrical), Joshua Boyd-Smith (Mechanical), Virginia Clement (Sustainability), Hayley Barrett-Bentley (Mechanical), Shamma Tasmeen (Mechanical), Katie Williams (Administration), Nicholas Yeubrey (Electrical) and Nazia Chowdhury (CAD) have all joined the Cardiff office this year. We also welcomed Matthew Lloyd (Electrical) and Karl Barfoot (Electrical) to the Swansea office.
We're also delighted to have opened a new Bristol office with Liam Poole at the helm who has already welcomed Lisa Masterman (Mechanical) and Jo Harding-Pitt (Mechanical).
Merry Christmas and a prosperous New Year to all – see you in 2022!