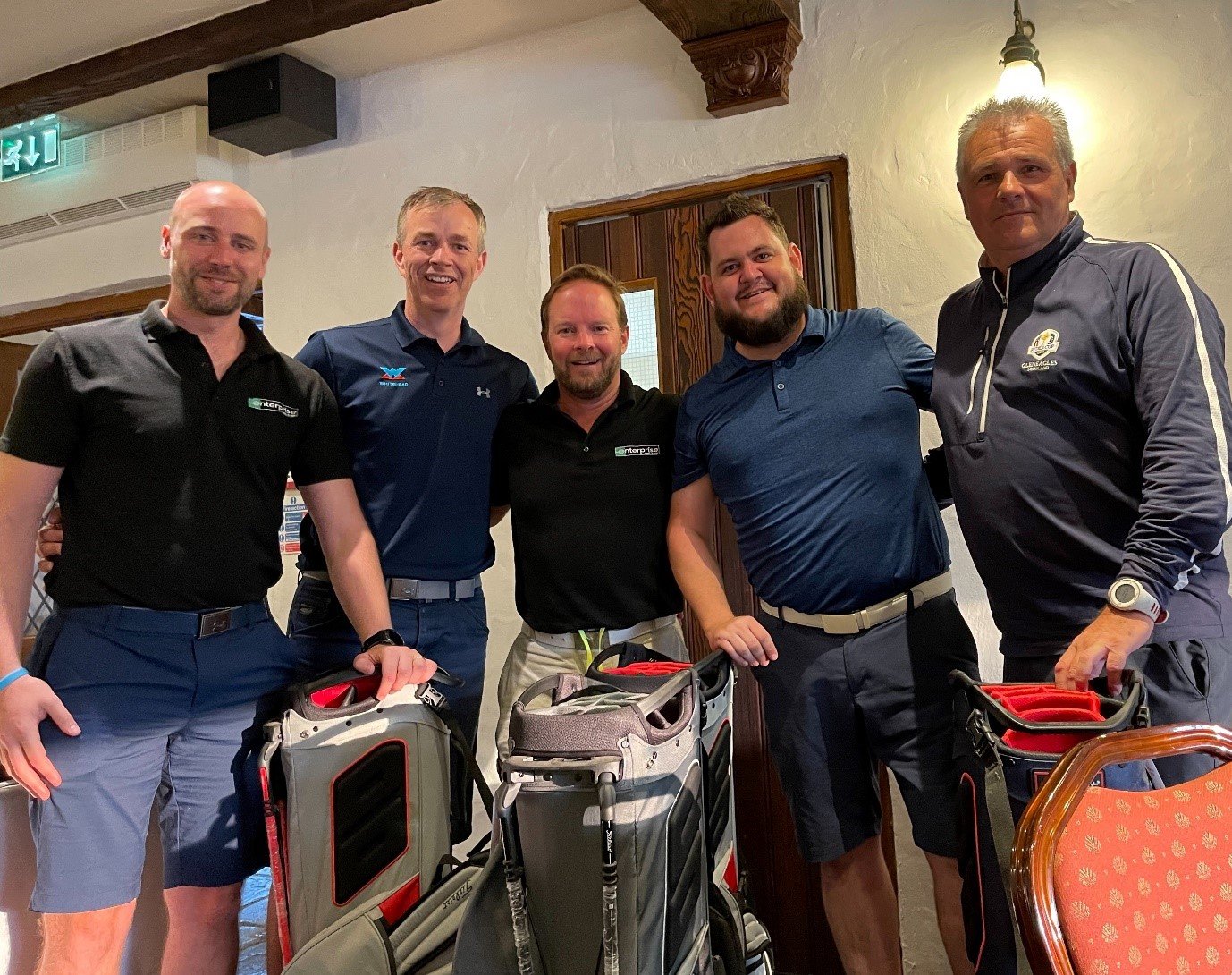 Back
McCann and Partners hosted a charity golf day at Cottrell Park Golf Club, St Nicholas in aid of Innovate Trust this September – where more than £3,000 was raised and an impressive TWO hole in ones were achieved!
Innovate Trust is a charity which supports adults with learning disabilities to lead fulfilling, independent lives. They support people in their own homes, as well as in the community, providing opportunities to continue learning into adulthood, build relationships, volunteer and find work.
On a beautifully dry and sunny day that witnessed not one but TWO hole in ones; one on the 2nd hole by Ian Rowlands (Air Systems) and on the 9th by Bill Bryce (Whitecroft Lighting), the eventual winners were Whitehead Building Services who scored an unbelievable 19 under par, beating Whitecroft Lighting and Broadway Agencies (both 15 under par) in second and third place respectively.
In total, we're delighted to announce that we raised a fantastic £3,021 for Innovate Trust, which will specifically contribute to running supported volunteer placements at St Fagans National Museum of History and with the Cardiff and Vale park ranger teams.
We would like to say a special thank you to the following people for their generous donations to the prizes and raffle:
Nicole Coldrick (Cottrell Park Golf Club) for the 4-ball at 4-ball at Cottrell Park;
Llyr Davies (NuAire) for the 4-ball at the Vale Resort;
Jamie Lannen (Faithful + Gould) for the 4-ball at the Vale Resort;
Daniel French (Involve Recruitment) for the 4-ball at the Vale Resort and 4-ball at the Celtic Manor;
Matthew Wallace (Schneider Electric) – for the £50 Cottrell Park pro shop voucher;
Darren Broad (Broadway Agencies) – for the 4-ball at Radyr and 4-ball at the Marriot Forest of Arden;
Grahame Davies (Herz Valves UK) for the £30 American Golf voucher, bottle of Whisky, bottle of Gin, bottle of Rum, and the two bottle of red wine;
Gareth Mahoney (Best of Wales) for the £50 Best of Wales voucher;
Deane Pearse (Polypipe) for the range finder;
Steve Thomas (Eaton Electric) for the Under Armour golf shoes;
Tony Parsons (Whitecroft Lighting) for the bottle of Whiskey;
Daniel Fry (Datel Services) for the Cobra golf bag;
Nigel Hall (Mitsubishi Electric) for the bottle of Whiskey.
Also, a big thank you to Cottrell Park for not only accommodating us, but for the brilliant hospitality leading up to and throughout the day.
Thanks to those who supported us on the day and we look forward to seeing you all next year.
To find out more about Innovate Trust and their brilliant work, please have a look here.