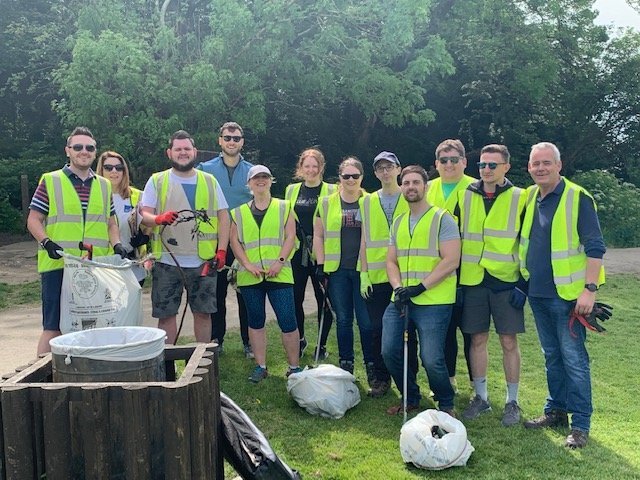 Back
McCann and Partners dedicated 2019 to raising money for fantastic environmental charity The Marine Conservation Society - the UK's leading charity for the protection of our seas, shores and wildlife.
From charity pub quizzes to 100 mile cycles, our team have been working tirelessly over this past year to raise funds and awareness for the Marine Conservation Society and its local efforts to clean up the seas in Wales.
We set off in 2019 with a target fundraising goal of £5,000, and we're over the moon to announce that the McCann's team have exceeded the target, raising a fantastic £6,132.43 for Wonderful Welsh Seas.
Some of our highlights have included taking part in the mammoth Carten100 cycling challenge in June, which saw three members of the team riding from Cardiff to Tenby - a huge 109 mile journey.
Our annual golf and 5-a-side tournaments were also a big hit, as well as the highly anticipated McCann's pub quiz; however our biggest highlight has been taking part in local beach cleans throughout the year. It's been amazing to see the difference a few hours work can make to the local environment, and we'd really like to say a big thank you to all the families and friends who joined us to help out.
We'd also like to say a huge thank you to our colleagues and partners in the industry who have helped with team sponsorships, and those who come along to so many of our events.
An estimated 12.7 million tonnes of plastic (from bottles and bags to microbeads) end up in our oceans each year and is now entering every level of the ocean food chain.
Thankfully, The Marine Conservation Society is striving to drive political, cultural and social change for healthy seas and coasts that support abundant marine wildlife, sustainable livelihoods and enjoyment for all, and we are delighted that our funds raised from this year will be contributing to such a worthy cause.
For more information on Wonderful Welsh Seas and The Marine Conservation Society, visit https://www.mcsuk.org/wales/.