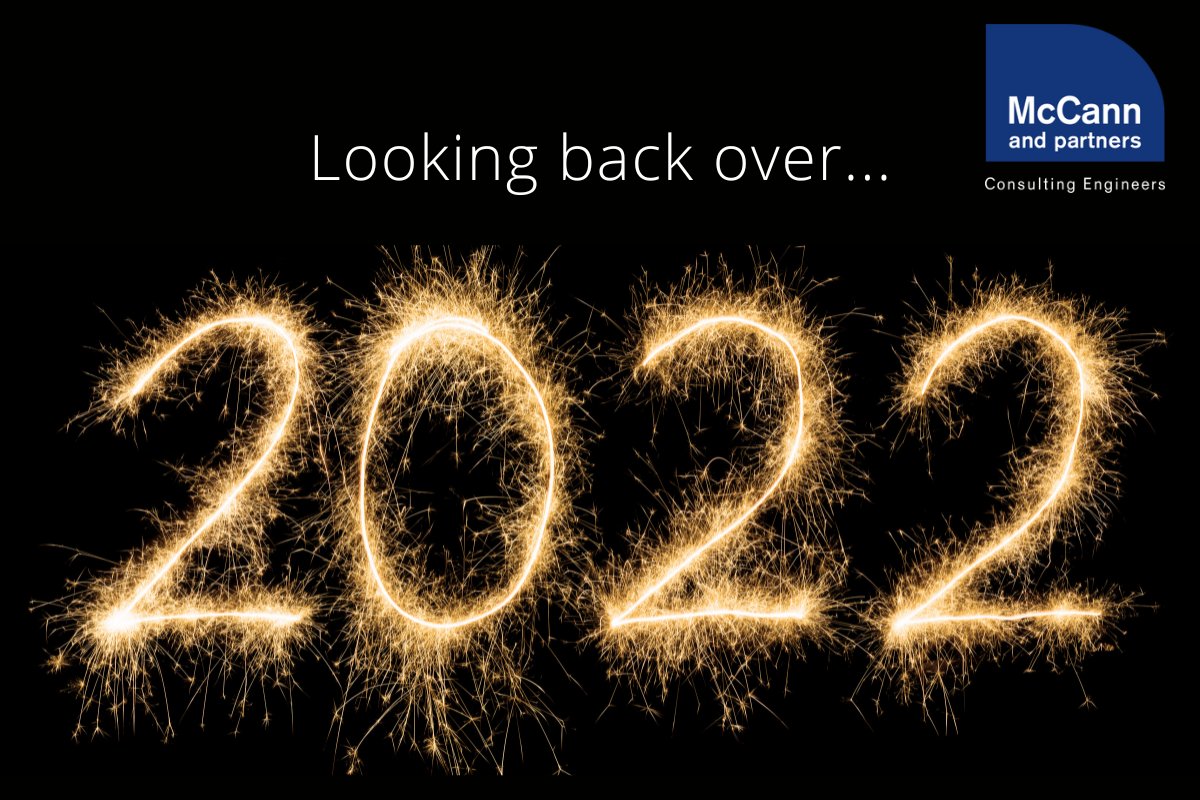 Back
It's been another fantastic year for the McCann and Partners team
As we look to celebrate the start of a New Year, we look back at our achievements throughout 2022. We've celebrated new starters, promotions, awards and charity events. Let's take a look at some of our highlights over the last year.
We are proud of our work with the Welsh Ambulance Service
We completed the MEP design for the new state-of-the-art ambulance station at Aberaeron as well as one in Cardiff.
Ambulance crews in Cardigan Bay are now working from a 1,700 square foot building at Hywel Dda University Health Board's Minaeron complex that includes a two-bay ambulance area, garage, kitchen, rest rooms, showers and desk space.
And in Pentwyn, Cardiff we helped create a modern base for emergency and non-emergency crews, plus a Make Ready Depot with dedicated Fleet Assistants who will clean and restock ambulances between jobs – speeding up turnaround time and improving service to the public.
It has new office and welfare facilities, and garage/workshop space for cleaning and stocking of WAST vehicles. It also includes photovoltaic array, rainwater harvesting feeding external wash bay and has been future proofed for provision of electric WAST Vehicles.
We helped Tewkesbury Council go greener
In addition to the above, we also completed a Solar PV canopy in the car park of Tewkesbury Borough Council to generate up to 260,000 kWh of renewable electricity which can be used by both the council buildings and the leisure centre.
There are 574 solar panels providing a 230 kWp system which will generate up to 260,000 kWh electricity per year, reduce greenhouse gas emissions (76 tonnes a year) and save around £45,000 a year in avoided energy costs.
We moved to a new home in Swansea
Our Swansea office moved to the state-of-the-art Bay Technology Centre, a sustainable and energy positive building in the heart of South Wales.
This move to the 'BREEAM Excellent' Development enhances our vision and commitment to decarbonisation and energy efficiency, whilst affording brilliant facilities for our team to continue to grow.
We handed out the first ever McCann prize
MSc Environmental Design of Buildings student Eduardo Fialho Guimaraes became the very first recipient of The McCann Prize at Cardiff University.
The award, sponsored by McCann, recognises the best overall performance in taught modules of students in MSc Environmental Design of Buildings and MSc Sustainable Mega Buildings.
In addition, we congratulated Matthew Lloyd, for winning "Learner of the year in construction" at Bridgend College. Matthew, studying for a level 3 Building Services ONC at Bridgend College, has been with us for a year and has become an integral part of our Swansea office.
We welcomed new faces, promotions and qualifications
Our team continued to grow with Molly McHarg, Michelle Boddy, Arzu Cetinkaya, Claudia Milza-Wyatt, Fiona McClean and Will Arthure all joining the team.
Darian Jones, who is based in our Swansea office, was promoted to Mechanical Associate and Virginia Clements became Principal Sustainability Consultant. Well done both!
In addition, a huge congratulations to Anthony Collins, who qualified as a WiredScore and SmartScore Accredited Professional and Molly McHarg, who was promoted to Sustainability Consultant after passing her BREEAM exams.
We continued to do our bit for charity
We've continued to support Innovate Trust with various events including our annual golf day at Cottrell Park Golf Club, St Nicholas where we raised a staggering £3,112.54. That money will contribute to running supported volunteer placements at St. Fagans National Museum of History and with the Cardiff and Vale park ranger teams.
You can read all about our fabulous day here
We can't wait for 2023
We have plenty of projects in the pipeline for 2023 and look forward to telling you all about them. A big thank you to the whole team and all those who continue to support and work with us. See you in 2023!