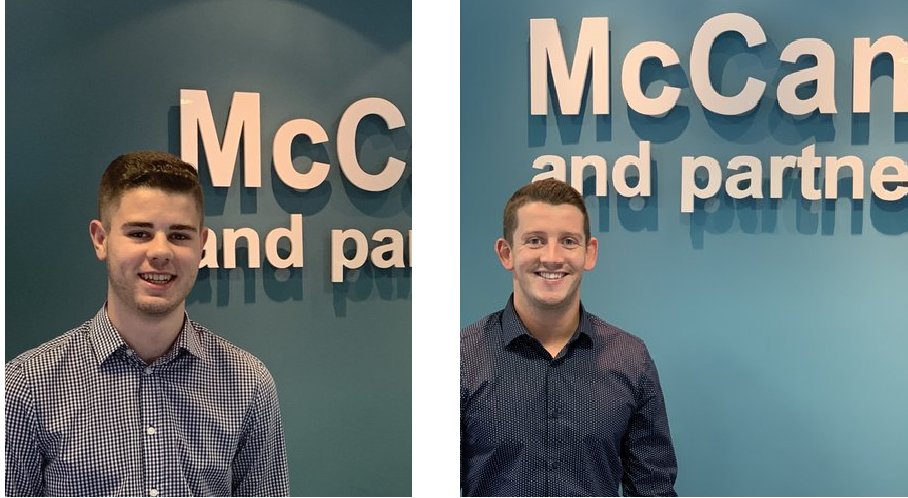 Back
McCann and Partners is thrilled to have Noa Hughes and Nicholas Richards on board as the newest members of its Mechanical and Electrical Engineering team.
Noa joins us as a Mechanical Junior Engineer and will be working towards his HNC, degree and chartered engineer status while undergoing training here at McCann. Alongside his studies, Noa's role with us will include developing his skills in dynamic thermal modelling as well as mechanical HVAC design.
McCann and Partners would like to thank Jane O'leary from the Vale of Glamorgan who leads the 21st Century Schools Programme. It was Jane's invaluable work in highlighting construction as a career to school leavers which ignited Noa's interest in the profession and put him in touch with us.
He said "I'm very happy to be joining the McCann and Partners team, and to be working towards my Building Services Engineering HNC, and then my degree while at work is a fantastic opportunity. I've had an interest in engineering from a very young age and it's very exciting to now be developing my career in the field. I'm very grateful to the team here for their support and I look forward to getting started."
Alongside Noa, Nicholas Richards has joined McCann and Partners as a Trainee Electrical Engineer. Formerly a qualified approved electrician, Nicholas has been working in the industry for the past seven years across a range of projects. He has experience in the domestic, industrial and commercial sectors and will no doubt be a fantastic asset to the McCann team.
As the newest addition to our electrical engineering offering, he will be carrying out and developing his skills in all stages of the electrical design process and working to find bespoke solutions for our live projects.
On his new appointment, Nicholas said: "I'm excited to be broadening my knowledge and expertise in the building services field with the support of McCann and Partners. There are some fantastic opportunities for development here and I'm very much looking forward to seeing what the next few months bring."
We are delighted to have Nicholas and Noa on the team, and we look forward to seeing what the future holds for them both.
For more information on our building services, visit mechanical, electrical and public services.